At the Annual World Bank Conference on Land and Poverty Micro Aerial Projects presented the aerial mapping work we have done in Albania using small UAVs for improved land governance and cadastral mapping.  Hopefully our work will demonstrate that small UAVs/drones are efficient and appropriate survey tools which can tackle the vast amount of mapping needing to be done in a more affordable manner. This is a highly efficient means of mapping and modelling to improve existing spatial data quality and property records!
(Left: Oliver and Walter Volkmann, the V-team of Micro Aerial Projects; Right: the Steadidrone QU4D on site)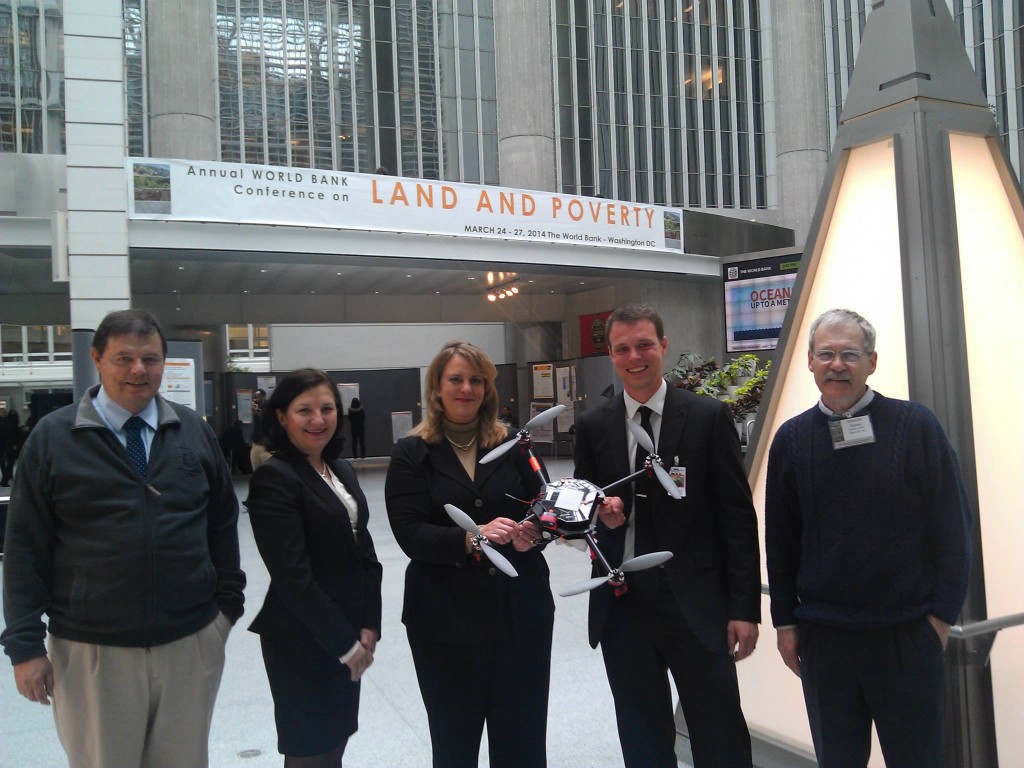 (group photo of those involved in the Albania project)
Two papers about the projects were presented: Drones for Peace: Part 1 of 2
Design and Testing of a UAV-based Cadastral Surveying and Mapping Methodology in Albania and Drones for Peace: Part II
Fast and Inexpensive Spatial Data Capture for Multi-Purpose Use
(Left: Walter Volkmann giving a news interview; Right: Oliver Volkmann explaining the features and functionalities of the V-Map System and the Steadidrone platform Micro Aerial Projects has adapted for professional mapping)
Sci Dev Net ("Bringing science and development together through news and analysis") published the following article about the World Bank Albania project and the Volkmanns of Micro Aerial Projects:
"When the World Bank is planning a new project and seeks land maps and information about land rights, it often must rely on crumbling old documents stacked in dusty offices.
A few big companies offer mapping services but they are expensive and slow. The process is tiresome for the World Bank, and for citizens in the developing world it can be a nightmare that stifles entrepreneurship.
And yet, rapidly available maps can be helpful to advance development plans and to settle disputes over bordering parcels of land.
Enter Walter Volkmann, a Namibia-born surveyor and owner of Micro Aerial Projects, who has developed an exciting new tool — a drone, costing about US$10,000, that can provide high-quality aerial maps in a short time.
Volkmann's drone was one of the highlights of a recent conference on land and poverty at the World Bank, in Washington DC, United States. The bank has pushed for land tenure reform in the developing world in recent years, and a key element to enable this is technology that eases mortgages and land transfers by creating reliable maps and title documents.
The drones Volkmann and his son use are operated using open-source software and made from parts available in a hardware store, and weigh less than 2.5 kilograms. They are affordable, compared with manned mapping planes whose gear costs millions of dollars.
Kathrine Kelm, a World Bank land specialist who works on building national spatial data infrastructure, says the advantages of Volkmann's drones are obvious.
"When surveyors do maps it's with a stick and a black line on paper. That's hard to communicate. With unmanned aerial systems, you get a photo map that's easier for people to understand and participate in the development discussion," says Kelm.
"How high is that building? How wide is the road? You can do all of that virtually instead of spending weeks out in the field. This gives you information useful for estimating taxes, planning infrastructure, building schools. Making more data available to citizens improves governance."
For the World Bank, she says, the drones are "a revolutionary tool for the whole project cycle. Before you put in a road, you can fly over the area. Along the way, you map progress. Are they dumping garbage in the river? Are they on schedule? Then you go back — are there potholes?"
Volkmann got the idea in 2008, when a micro-lending bank asked him to help create a property registry in a shantytown outside Accra, in Ghana. After watching a BBC television programme on drones, Volkmann realised that a bird's-eye view of the slum's meandering pathways would be helpful. He bought a drone in Germany and used it to make the first accurate map of the community.
"The villagers were absolutely fascinated by the technology and totally embraced it," says Volkmann. "If you don't have your land parcel registered, you get nothing in Africa. This technology makes it easy for the poor to take part in the mapping and recording of the properties.
"Drones democratise mapmaking," he adds. Their cost has fallen from about US$40,000 to as little as US$3,000 since 2006, Volkmann says.
And the technology can be easily transferred to companies and governments in the developing world, adds Grenville Barnes, a professor at the University of Florida, United States.
In a recent test in Albania, funded by a US$100,000 World Bank grant, the drone required 20 minutes to photograph 34 rural properties. The next day, the team came back and showed local farmers the maps."