Capital Press has written an interesting article entitled Idaho Drone Project Studies Potato Stress. We are very happy to see how our V-Map system and the drones we configured for Donna and her colleagues at Idaho State University are finding their way to harmless and productive engagements!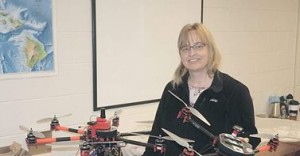 Back in March we equipped Donna with two Survey Copter Systems – a quad and a hex – including spare frames and V-Map systems. With Oliver's talent for configuration and packaging we could see Donna off with all her gear accompanying her as luggage – not as freight.

What you see on the right is a totally autonomous one-woman mapping crew on the move and equipped with everything needed for making accurate, high quality maps from A to Z: Two vertical take-off and landing (VTOL) aerial platforms with spare frames and parts for field repairs, batteries and chargers, remote controllers, cameras, software, computer, clothes for three days and the knowledge to get the job done. She has checked in at the gates to the world of personal mapping!